UK's highest-rated
women's razor subscription
RRP £9.95 | Try For Just £9.00
Join over 100,000 women with our award-winning set including our Premium SmoothGlide blades!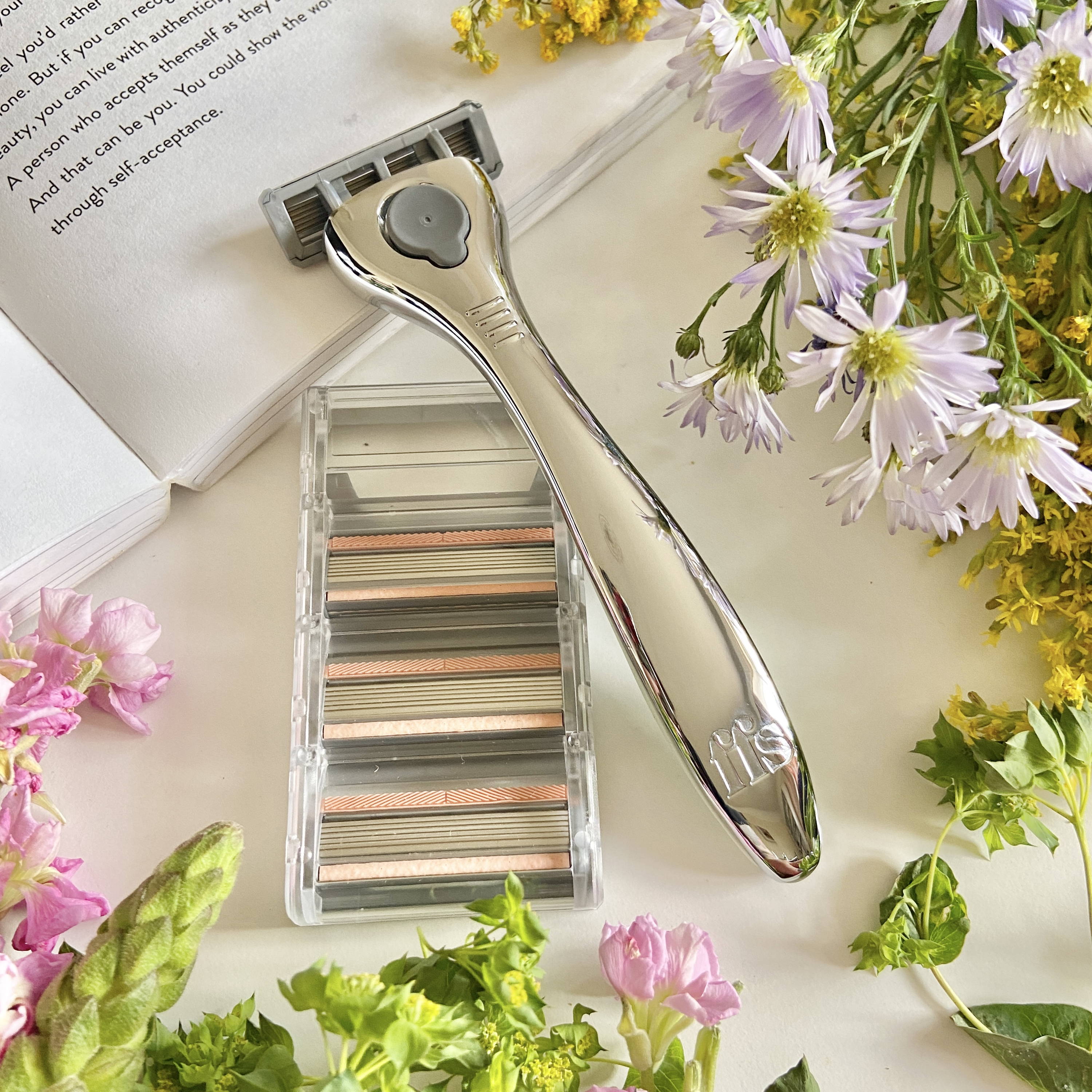 UK's highest-rated
women's razor subscription
RRP £9.95 | Try For Just £9.00
Join over 100,000 women with our award-winning set including our Premium SmoothGlide blades!
Premium Chrome Metal Handle
Stunning ergonomic design

Perfectly weighted

Rubber grip crafted to the contours of your hand for comfortable hold

Personalised engraving up to 12 characters
4 x Premium SmoothGlide Blade Heads
6 titanium diamond-coated blades per head

Precision trimmer blade

Vitamin E lubrication strip
Shower Holder
Grips to shiny surfaces to keep your razor dry and protected

Razor blades delivered to your door at a frequency that suits you

Pause, swap or cancel your plan at any time via your account portal

Add on additional beauty products to make your routine as effortless as possible

Member benefits including access to our referral scheme to save on your future boxes, blade recycling scheme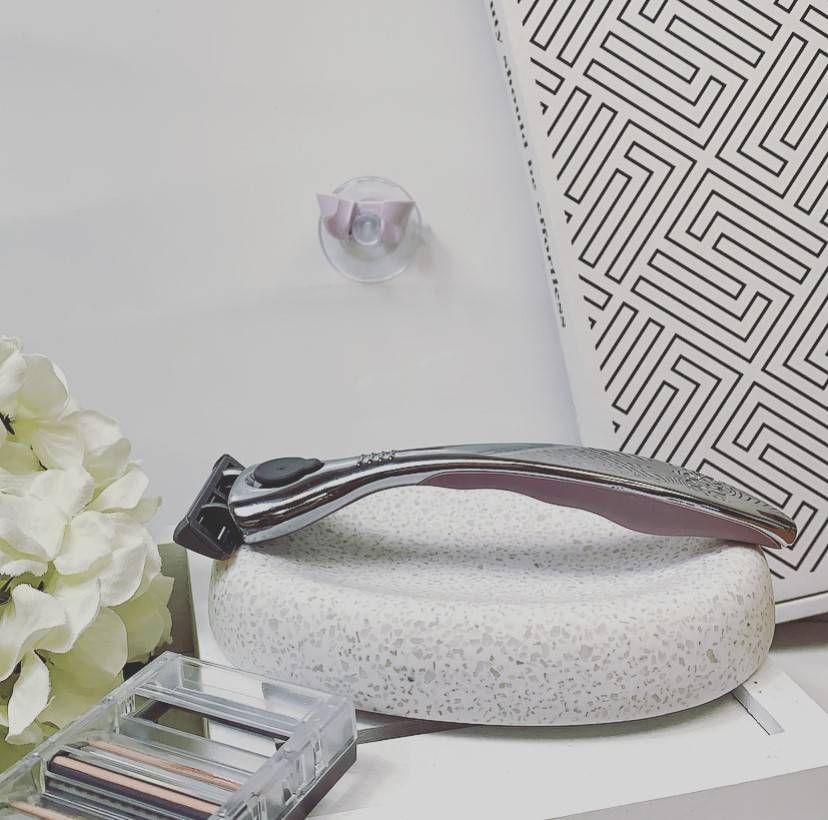 premium SmoothGlide blades
pivoting head to adapt to the contours of the body
designed for an all-over silky body shave
worlds first metal handle designed specifically for women
We know how annoying it can be when you go to grab a fresh blade but you're all out.
That's why we deliver Premium SmoothGlide Blades straight through your door! No more trips to the shop, choose a frequency that suits you and enjoy fresh blade deliveries every time.
Why choose the UK's highest-rated
women's razor subscription?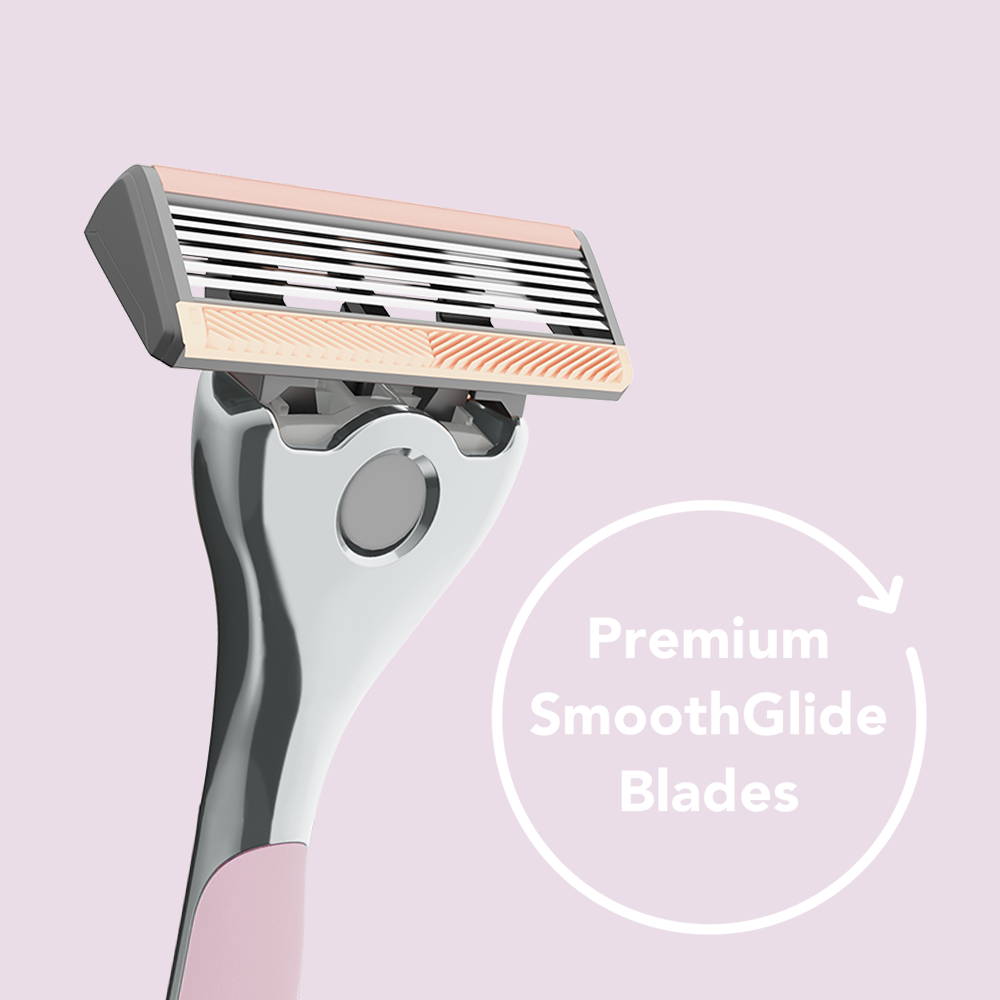 Receive regular top-up deliveries of our premium SmoothGlide blades and have beauty essentials at the ready whenever you need them.
By simply changing blades each week it ensures the blades remain hygienic and your skin is kept healthy and free from bacteria, meaning less irritation and fewer bumps.
Join the club today, and you'll be able to subscribe and save on your favourite bathroom essentials! Have your products delivered effortlessly through your door and receive FREE delivery. Buying your bathroom essentials has never been more effortless with subscribe and save.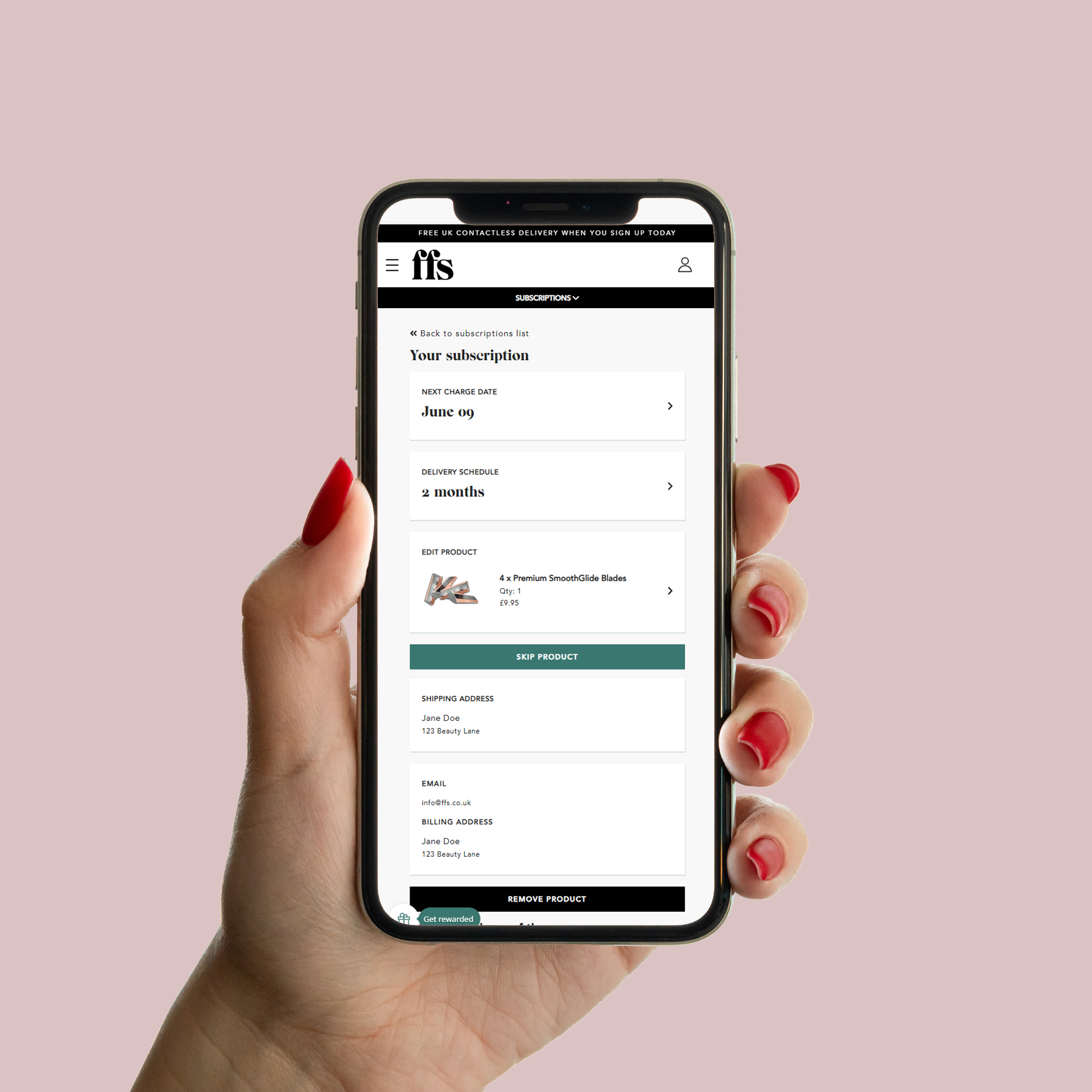 Complete control, no commitment & endless perks
We've made it as effortless as possible for you to make changes to your plan. Plus, we tailor our offers with you in mind on both FFS products and other handpicked brands we know you'll will love.
We all love a perk don't we? Get upcoming free gifts with your deliveries.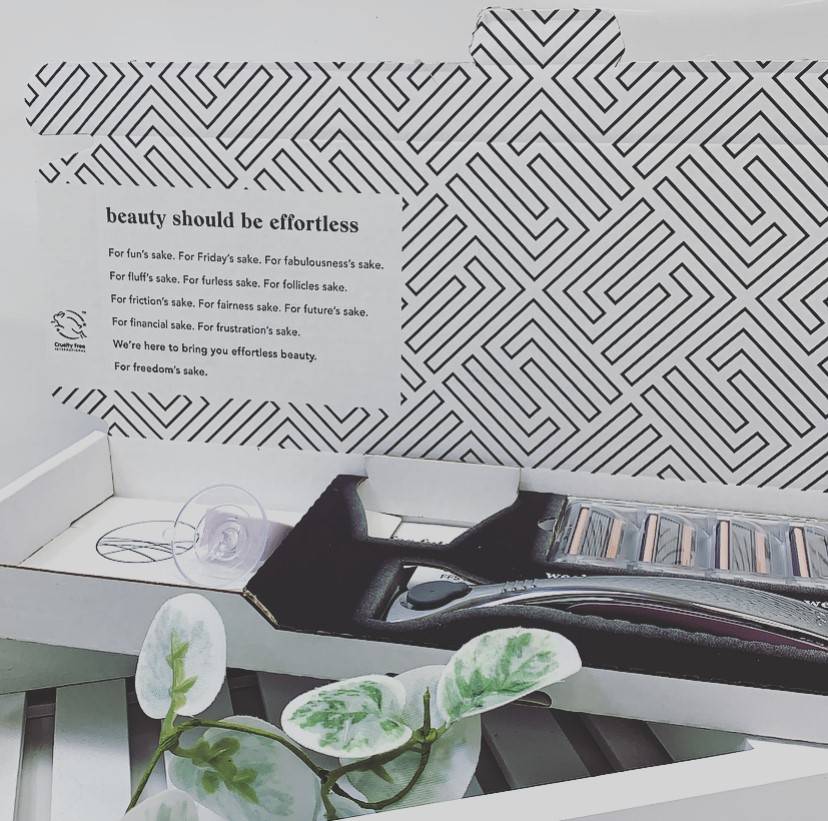 Whether its shaving essentials or body care necessities, we have you covered. By joining the club, you will be taking a step to saying no to single use plastic and yes to a more sustainable living.
With sustainability at the heart of FFS our development team are always looking for new ways to reduce plastic packaging, that's why our brand new range contains materials like glass and compostable plant-based naked wraps.
For Futures Sake.
Want £3 off your next box? For every friend who signs up using your unique referral link, you'll get £3 off your next box - plus they'll get £3 off their first order!
Sounds good right? Drop your unique referral link in the group chat and start referring.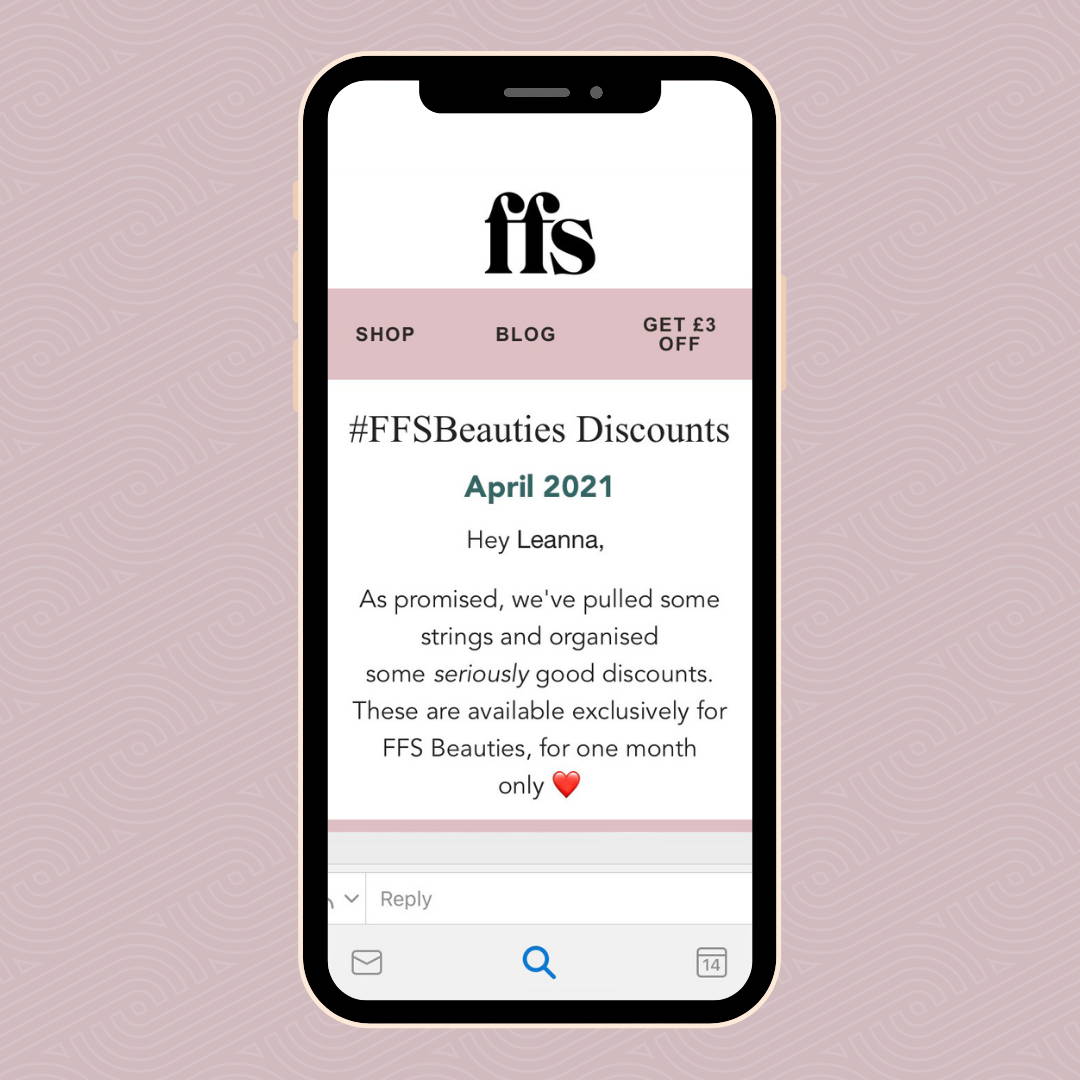 Monthly Discounts - we have pulled together some seriously good discounts on beauty, fashion and lifestyle brands exclusively for you.
Become an Ambassador - If you love promoting brands you love on social media, sign up to be one of our ambassadors and get amazing benefits when you share FFS with your followers!
Plus, get free delivery always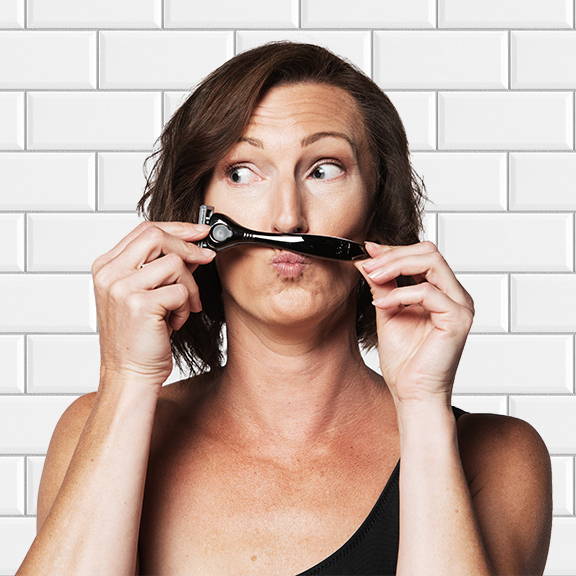 We are passionate about making beauty regimes as effortless as possible while holding true to our beliefs. To take the faff out of shaving, we deliver quality products straight through your door.
Liz Needham - Managing Director
On a mission to become sustainable?
You can choose up to 12 characters to be engraved on your handle.
We designed our award-winning razor with body shaving in mind. Our Premium SmoothGlide blades are made up of diamond-coated titanium and are spaced optimally for an all-over silky body shave. The pivoting head adapts to the curves of the body, so you can achieve an effortless shave. Our metal handle is perfectly weighted for optimal control.
You can get regular Premium SmoothGlide Blades deliveries through your door from just £9.95 at a frequency that suits you.
Don't just take our word for it!


"The engraving is such a nice personal touch that I've never seen anywhere else"
Annie

"Love the design and colour of the handle! - perfect ergonomic design with a good grip and decent weight to it…Gives a good, close shave with zero irritation."
Sarah

"They told me of a deal they had on, which included free engraving on the handle…I asked them to surprise me. I received a new handle within days with a hilarious play on my surname (Nudd) "in the Nudd"... Simple but effective, had me wheezing!"

"Overall an amazing razor, extreme value for money and the overall aesthetic is so pretty! The shave cream leaves your skin feeling like silk."
Alexandra

"FFS is godsend for busy women - never risk running out of sharp blades again! You can easily adjust your subscription frequency to receive a new package as often as you need. Using sharp, quality blades makes such a difference on how smooth and soft your legs will be as well."
Freya

"Love their products especially the pre shave scrub…Really convenient posted through the door too and also being able to adjust subscription when you need too"

"I recommend FFS to everyone. It helps me keep on top of my razors, changing them regularly and it's so convenient I get my top ups through the post so I don't have to worry about getting ever running out."
Isobel

"Love these razors. Have been using them for about a year and it's so convenient to get them through the door every month."
Pauline